CREATIVE SERVICES
Mobile Web Presence
The number of people using mobile devices to surf the Internet is increasing every day. Therefore, the design of your site should provide such platforms access and usability for these devices.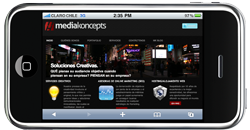 The mobile version of your website, should allow users of mobile smart phones and PDAs to view and enter information in an easy way. We must consider what type of users will be the target group for that version.

MediaKoncepts, founded in 2001, is a small boutique design firm that caters to all Small to Mid-sized Businesses [SMB]. Our aim is to help develop brands and set these businesses on a course to success by providing the best designs, advertising and web consulting for those on a reasonable budget.